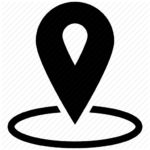 Solutions minimalizing manual work
Location-based services (LBS) use real-time geo-data from a mobile device or smartphone to provide information, entertainment or security. Location-based services use a smartphone's GPS technology to track a person's location
LBS applications cover nearly every aspect related to human mobility. They can be grouped under three main categories: consumer, enterprise and public safety applications. The combined use of wireless communication, location determination, geo-information systems and mobile devices opens the way to develop new or improved information, entertainment, social networking, personal navigation, mapping, geo-advertising, security, and law enforcement tracking services, among others.
Business owners can communicate with customers and potential customers who use location-based mobile networking through real-time communication.
Mobile workforce management
 For logistics-dependent companies that employ individuals out in the field or at multiple locations, an LBS allows employees to check in at a location using their mobile device.
Proximity-based marketing
 Local companies can push ads only to individuals within the same geographic location. Location-based mobile marketing delivers ads to potential customers within that city who might actually act on the information.